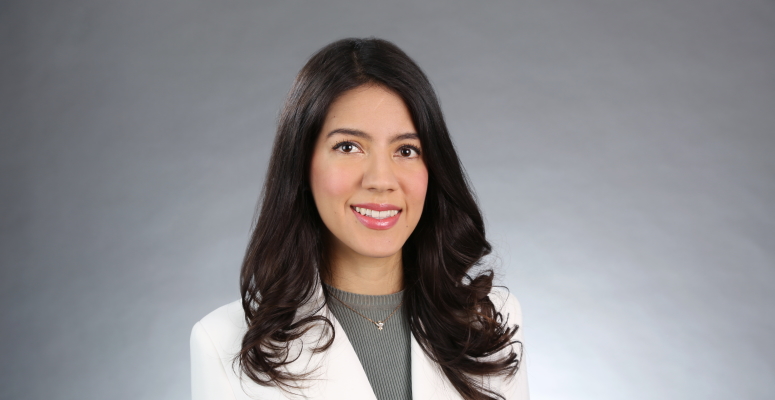 CIFFA Selects 2022 Canadian Young Logistics Professionals Award Winner
Every year, CIFFA offers an award to a young freight forwarder who best demonstrates industry knowledge and skills to become a true international freight forwarding professional in the future.
After a review process of industry experience and a written dissertation demonstrating technical knowledge, CIFFA is pleased to announce that Karina Daniela Perez Perez of DSV Air & Sea Inc. has been selected as the 2022 Canadian Young Logistics Professionals Award winner.
Karina started her post-secondary education in Mexico, where she received a scholarship to study a semester abroad at Bishop's University in Quebec, Canada.  She obtained her Bachelor's Degree in Biotechnology Engineering from the Instituto Politecnico Nacional.  She continued her education in Canada and graduated with High Honours from Seneca College's International Transportation and Customs Program.  Karina was one of only a few students selected for the co-op program during which she gained experience handling import and export shipments via truck to and from Canada, USA and Mexico and went on a business trip to Queretaro, Mexico while working for First Frontier Logistics Inc.  Karina has also completed the Authorized Cargo Representative and Customs Automation Certificate Descartes MSR Customs course, as well as the CIFFA International Freight Forwarding Courses and received the FIATA Diploma.  Her passion for the logistics industry began in her hometown Zamora, Michoacan, Mexico, whose main economic activity is the exportation of fresh and frozen fruits.  She currently works as a freight forwarder in the Ocean Exports Department at DSV Air & Sea Inc.  Karina has also been part of the Air Import and Export Department, where she has won the data quality challenge award of excellence.  She has volunteered with the Trade Commission of Mexico and the Daily Bread Food Bank.
As this year's Canadian winner, Karina will receive a cash prize of $1,500 and will represent Canada at the FIATA Americas regional competition.  This requires the submission of two dissertations.  If selected as the Americas regional winner, Karina will receive an all-expenses-paid trip to compete at the 2022 FIATA World Congress in Busan, Republic of Korea in the fall.
Additionally, CIFFA would like to acknowledge the good efforts and exceptional work of the Young Logistics Professionals Award competition runner up, Rabar Gardy of Savino Del Bene, S.p.A.  Rabar obtained his Bachelor of Science in Civil Engineering degree from the Salahaddin University-Erbil, Iraq and a Program Certificate in IT and Social Media from the Virginia Commonwealth University.  Additionally, he has completed the CIFFA Certificate in International Freight Forwarding, the Air Dangerous Goods Certificate and continues to educate himself.  Rabar became interested in freight forwarding while living in the Kurdistan region of Iraq and applied for a job with Savino Del Bene in Erbil in 2016.  In 2018 he continued working for the company in Toronto and has recently become the branch manager's assistant.
Click here for more information on the Young Logistics Professionals Award.