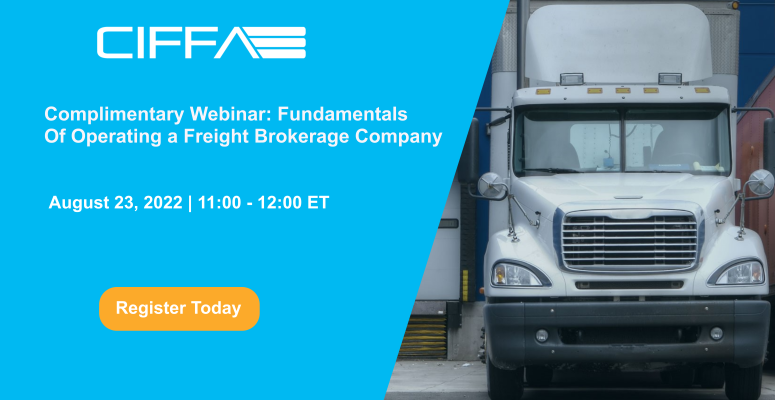 CIFFA Webinar: Freight Brokerage Fundamentals – Legal & Insurance Requirements
Date & Time:
Aug 23, 2022
11:00 am - 12:00 pm
Location:
Online Webinar
Description
CIFFA is hosting a panel session to review the legal and insurance requirements to start, operate and grow a Canadian Freight Brokerage company.
Moderated by Joel MacKay and supported by two great panelists including Gordon Hearn, Partner – Fernandes Hearn LLP and Glenn Patton, Managing Director – Roanoke Insurance Group Canada, Inc. this webinar will answer the following questions:
What licenses are required to run a Freight Brokerage in Canada?

What are the legal differences between a Freight Broker, Forwarder, 3PL or any other Intermediary in Canada?

Do Canadian Freight Brokers and Forwarders need a Surety Bond to move North American Freight

Do Freight Brokers have to carry additional insurance?

Are Freight Brokers required to sign Broker – Carrier Contracts? How do companies develop those contracts?

What are the requirements for Freight Brokers to join CIFFA?
Date: August 23, 2022 | 11:00 – 12:00 ET
Venue: Online webinar | Login details will be sent separately.
Moderator: Joel MacKay is the President and Owner of Mactrans Logistics Inc, a North American 3PL. Joel and his team have built Mactrans from a group of three people in 2009 to over thirty associates today with offices in Toronto, Montreal, Calgary, and Moncton.  Mactrans has been named one of Canada's Top Growing Companies by the Globe and Mail for the last three years.  In 2021 Joel joined the CIFFA Board of Directors when they opened up membership to Freight Brokers.  He also Chairs the CIFFA Freight Brokerage Committee.
Panelists:
Gordon Hearn, Partner – Fernandes Hearn LLP
Gordon Hearn acts as legal counsel for international and domestic interests involved in the transportation, supply chain and distribution of goods in litigation, regulatory and contractual matters. He advises shippers, receivers, carriers, logistics providers (3PL's, supply chain and "fulfillment" providers, freight forwarders, load brokers, customs brokers and warehousemen) and their insurers on their legal interest and exposure in the international, cross-border and domestic carriage of goods by all modes of carriage.
Gordon is a Past President of the Transportation Lawyers Association and is a frequent speaker at conferences and seminars throughout North America on legal issues and risk management for transportation and logistics service providers.
Gordon is a noted legal practitioner in Chambers Canada, Lexpert, The Legal 500 Canada, Who's Who Legal, Best Lawyers in Canada and Martindale Hubbell.
Glenn Patton, Managing Director – Roanoke Insurance Group Canada, Inc.
Glenn Patton is Managing Director for Roanoke Insurance Group Canada, Inc., where his primary goal is to partner with Roanoke Canada's customers and stakeholders to ensure appropriate alignment of risk management strategies and exposures. His technical expertise is concentrated in Cargo Insurance, Errors & Omissions, Cyber, Property/Casualty and Bonds, and he has extensive management and negotiation experience.
Prior to this role, Glenn was Vice President of Business Development for Roanoke Insurance Group in the corporate offices in Schaumburg, IL where he was tasked with increasing global business opportunities across all product lines for Roanoke. Glenn also served as Regional Vice President of Roanoke's Western Division and was a claims adjuster when he first joined Roanoke in 1998.